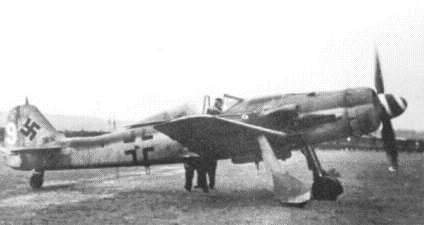 FW 190 D-9 W.Nr 500 042 'White 9' of II./J.G. 26, Nordhorn, Germany, December 1944 (D. Wadman)


A II./J.G. 26 Dora, this one carries the code of 'White 9' in a most unusual position, on the rudder. No fuselage markings are carried, but the spinner has a white spiral. This aircraft also appears on page 384 of Peter Rodeike's Focke-Wulf Jagdflugzeug Fw 190A, Fw 190 "Dora", Ta 152.

W.Nr 500 042 was a Mimetall-built FW 190 D-9 completed in December 1944. It was probably one of eleven FW 190 D-9s delivered to II./J.G. 26 at Nordhorn in the same month, December 1944.


---
Back to FW 190 D-9 Gallery