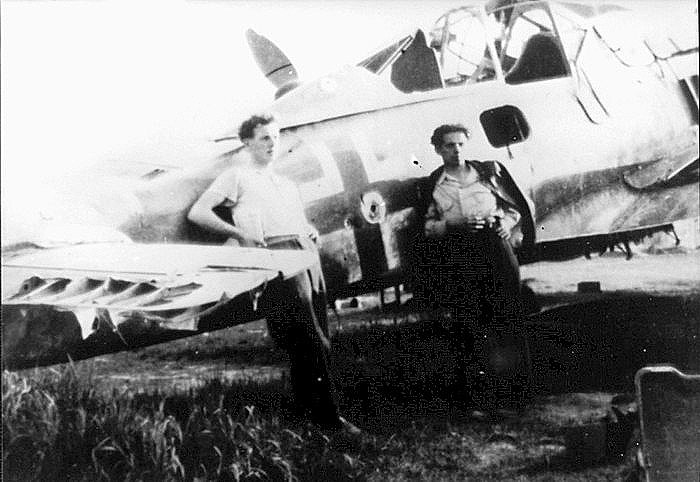 An FW 190 A or F of an unknown unit, Germany, May 1945 (A. Glass via Franek Grabowski)


The man standing on the right is Mieczyslaw Wyszkowski, an ex-member of the Polish Fighting Team, which successfully fought in the Tunisian campaign. The location may be Ahlhorn, Celle, or Varrelbusch. Behind the FW 190 is a Heinkel 111. I have recieved a number of comments on this aircraft, and I include them below.

David E. Brown
David E. Brown, an expert on late-war Luftwaffe camouflage, had a look at this photo. He believes that the flat canopy indicates an early FW 190 A-8, with a camouflage scheme of RLM 74/75/76, and that the fuselage band seems to be yellow, indicative of a training unit. He also comments that the early style Balkenkreuz suggests an early FW 190 A-8 or late FW 190 A-7.

Adam Skupiewski
Adam Skupiewski, author of Fw 190 A/F/G/S - Aircraft Monograph 4, AJ-Press, Gydnia, 1996, ISBN 83-86208-35-X, also offered his opinion as to the identity of this aircraft. He believes it is either an FW 190 F-8 or F-9 (note the bomb rack and radio panel), and more specifically an early FW 190 F-8 with an early type canopy.

Philippe Willaume
Philippe Willaume had some comments to make about this aircraft. Philippe believes it is either an FW 190 A-8 or A-9 because of the radio panel, which, according to some FW 190 manuals he has, only appeared on these two variants. He also notes that no triangle showing the fuel type is visible, indicating the aircraft had sat there for some time. As for the underfuselage rack, Philippe believes this to be an ETC 501 rack for carrying bombs (there are no lateral stabilization bars to carry a drop tank). The canopy is the flat type. His final comment: "It is very probably an A-8."

Thanks to David, Adam and Philippe for these comments.

---
Back to Late-war FW 190 Gallery