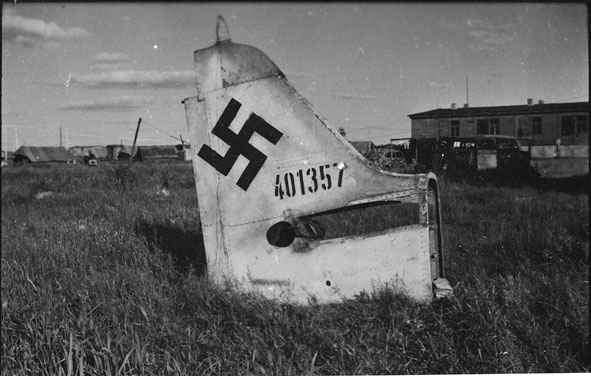 The tail of FW 190 D-9 W.Nr 401 357 'White 3 + ' of Lt. Xaver Ellenrieder, Staffelkapitän of 1./J.G. 26, Germany, May 1945 (Franek Grabowski)


This photo is quite a puzzle, but I'll do my best to put it all together!

The Aircraft
FW 190 D-9 W.Nr 401 357 was built in December 1944 by Weserflug at Lemwerder. From here it went to I./J.G. 26 at Fürstenau. It would then have recieved the unit's black-white Reichsverteidigung fuselage band, and its code of 'White 3 + '. On 13 April, I./J.G. 26 arrived at Sülte airfield. At around 16:10 on 16 April 1945, W.Nr 410 357 crashed on landing at this base. The aircraft was 75% damaged, and the pilot, Xaver Ellenrieder was wounded. In May 1945, the vertical tail section, minus the rudder and the rest of the aircraft, was photographed at an unknown airfield, possibly Celle, Varrelbusch or Ahlhorn.

The Pilot
Xaver Ellenrieder had served with 4./J.G. 26 earlier in 1945 (he was wounded in combat on 23 January 1945 in an FW 190 D-9 while with 4. Staffel). After recovering from these wounds he assumed command of 1./J.G. 26, and led the unit until he was again wounded on 16 April 1945.


---
Back to FW 190 D-9 Gallery