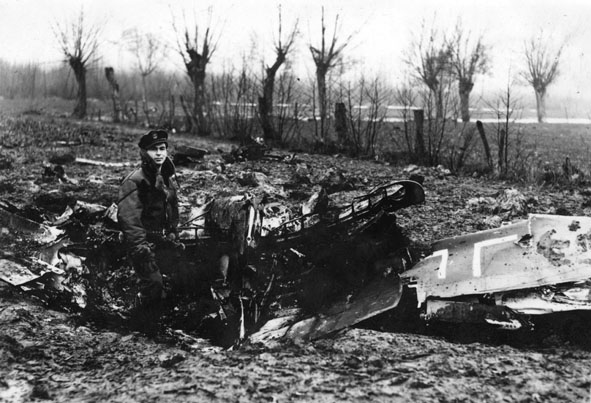 FW 190 A-8 W.Nr 960 677 'Blue 14 + -' of Uffz. Gerhard Behrens, 8./J.G. 1, St. Denis Westrem, near Ghent, Belgium, 1 January 1945 (Stanislaw Bochniak via Franek Grabowski)


This photo, from the album of Stanislaw Bochniak, depicts the fate of 8./J.G. 1's Uffz. Gerhard Behrens and his FW 190A-8 'Blue 14 + -'. Behrens was the first and only victim of F/O. Tadeusz Szlenkier, a Polish Spitfire pilot. Gerhard Behrens was killed in the crash at St. Denis Westrem airfield in northern Belgium during Operation Bodenplatte.

On 1 January 1945, the II. Gruppe of J.G. 1 had taken off from Drope, near Lingen, to attack the Allied airfield at St. Denis Westrem, while the Geschwaderstab, I. and III./J.G. 1 attacked other nearby targets. The attacks by the unit were very costly in aircraft and pilots. Gerhard Behrens was one of twenty-four J.G. 1 pilots killed or missing in Unternehmen Bodenplatte. In return, J.G. 1 claimed destruction of 32 Spitfires.[1]

Behrens' aircraft, a Norddeutsche Dornier-built machine, had left the Wismar factory in mid-December 1944, and had gone straight to II./J.G. 1. Another machine of this block, FW 190 A-8 W.Nr 960 547 'Blue 10 + -' piloted by Fw. Paul Mayr of 8./J.G. 1, was also lost on 1 January 1945, and it carried the red Reichsverteidigung fuselage band of the Geschwader.[2] Therefore, it seems almost certain that Behren's aircraft also carried this marking.

This photo is a sad reminder of the fate of so many pilots in World War II - German and Allied. While successful pilots were toasted as heros, their victims were too often forgotten.


---
Footnotes
[1] B. Barbas, Planes of the Luftwaffe Fighter Aces Volume 1, Kookaburra Technical Publications, Melbourne, 1985, p.32
[2] N. Beale, 'Geschwader Identification Bands', in B.C. Rosch (ed.), Luftwaffe Verband #22, April 2000, p.8

---
Back to Late-war FW 190 Gallery